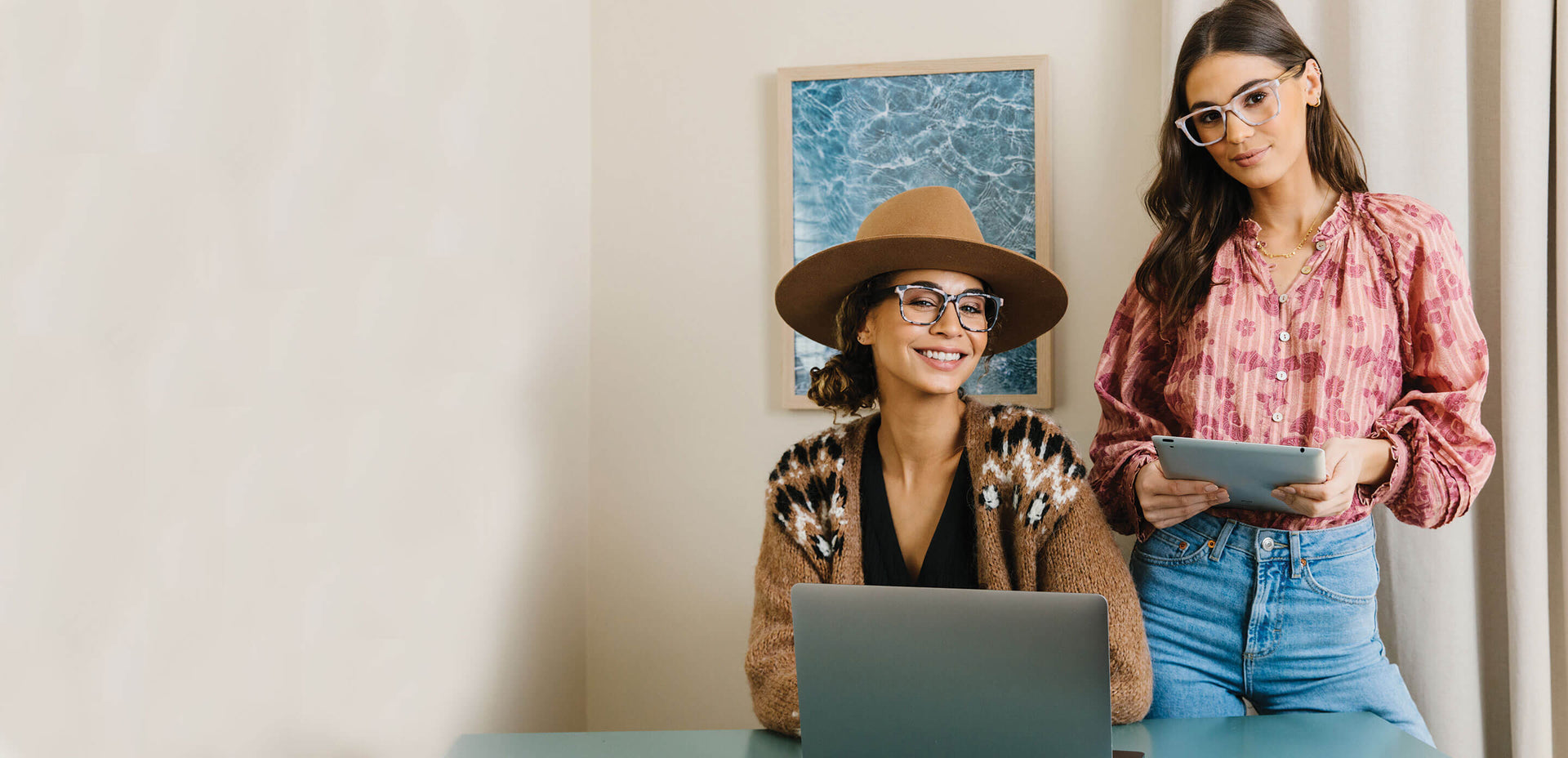 Our proprietary, baked-in lens formula works together to prevent symptoms of digital eye strain¹, help reduce the chance of headaches, and help alleviate tired eyes.
SHOP BLUE LIGHT STYLES
Shop Blue Light Focus™ Best-Sellers
No More Eye Strain!!

Love the Blue Light collection. These really do totally eliminate eye strain from staring at my computer all day. I keep several pair at home for when I use my iPad & iPhone for periods of time also.

- Becky H.

Eye Fatigue gone!

Love blue light Peepers - much improvement in eye strain - styles are great - affordable.

- Joyce H.

A Must for the Increase in Screen Time

I have been using my Peepers for the last about 3 weeks and I can honestly say I have seen a difference. I no longer get headaches nor eye strain pain after a long day of screen time. Additionally they are cute and stylish and I have gotten a lot of compliments and interest in them.

- Maricruz L.
Frequently Asked Questions
Does insurance cover blue light reading glasses?

Blue light reading glasses might be covered under your insurance—it's a good idea to check your specific policy. Most readers are eligible for FSA spending.
Which blue light reading glasses are the best?

The best blue light reading glasses depend on your style preferences, the frame that fits your face shape, and the strength of readers you need. No matter which pair of Peepers glasses you choose, you can be sure you're getting quality frames and blue blocking lenses.
How can I get blue light blocking added to reading glasses?

At Peepers, the majority of our reading glasses have Blue Light Focus™ Lenses for your protection. However, we do offer a small selection of

readers without.
¹Spectral Analysis Tested in high-energy short-wavelength 400 to 450 nm visible light ²Computer vision syndrome, also referred to as digital eye strain, describes a group of eye and vision-related problems that result from prolonged computer, tablet, e-reader and cell phone use by the American Optometric Association. Computer vision syndrome. 2017. https://www.aoa.org/healthy-eyes/eye-and-vision-conditions/computer-vision-syndrome?sso=y (Accessed February 9, 2021) ³Based on Peepers Reflectance Test used for testing light transmittance in Peepers uncoated lens compared against seven layer anti-reflective coated lens. ⁴"AR and non-AR coated lens performance during contrast sensitivity testing and daily activities", McMahon OD, Illinois College of Optometry, The Vision Council, Https://www.thevisioncouncil.org/sites/default/files/AR-and-non-AR-coated-lens-performance.pdf ⁵Measured using Yellow Index Testing among top competitor brands ⁶Each lot is tested using rigorous standards in advance of shipment to Peepers including lens manufacturing, blue light filtration in the spectrum of 400-450 nm validation Based on a randomized survey among Peepers consumers in [January 2021]